How Is Abrasion Affecting Your Valves?
In oil and gas applications with highly abrasive conditions, control valves can take a real beating. Sand, salt, and other abrasive elements wear away the internal trim, packing, and body as it moves through the valve. Sources of valve abrasion include flowback, natural sand in the formation, and saltwater.
Wear and abrasion resistance is critical to optimal performance of oil and gas control valves. The premature wear abrasion causes to standard trim in control valves can cost you thousands in repairs and replacement valves, not to mention downtime. Therefore, choosing the right type of valve trim for your environment is key.
Kimray offers two High Pressure Control Valve trim materials designed to perform well in erosive conditions. These materials are harder than our standard trim and don't wash out as fast.
Carbide Valve Trim
Carbide is a hard metal we recommend using for valve trim during flowback. In an ASTM G65 test of material loss, Carbide trim performed 2.5x better than standard D2 Steel trim.
Zirconia Valve Trim
Kimray's wear-resistant Zirconia Trim is designed specifically for highly abrasive oil and gas applications. Zirconia offers a combination of abrasion and corrosion resistance not found in steels, alloys, or many forms of other ceramics and carbides.
What's the Secret to Zirconia?
Zirconia is a robust, hard ceramic material. It outperforms metal trim materials in abrasion resistance. This is an ideal solution for high-sand areas like North Texas, Australia, India, and China.
Zirconia is superior to Stellite and other metals for two reasons:
It is a harder material than metal

Because it is a ceramic and not metal, it is inert to corrosive material
In an ASTM G65 Sand Abrasion Test of material loss, Zirconia outperformed 316 Stainless Steel and Stellite.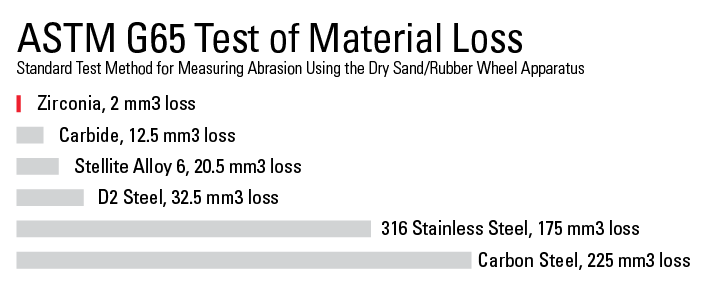 The chart above shows the results of this test. It measures material loss based in cubic millimeters (mm3).
Kimray's Magnesia Stabilized Zirconia valve trim performed 10 times better than Stellite Alloy and nearly 90 times better than 316 Stainless Steel. Kimray Tungsten Carbide also performed better than other metals.
Do You Operate Under Extreme Conditions?
Valve trim performance can be affected by more than just valve abrasion. Extremely high temperatures compromise metals like Stellite. Zirconia Trim is an ideal solution for operation in extreme temperatures. This trim is designed to perform at temperatures ranging from -200°C to 850°C. Stellite, meanwhile, is only tested for temperatures between 315°C– 600°C. And because Zirconia is not a metal, it's not subject to NACE.
Zirconia Applications
Erosive/Abrasive Conditions

Fracking

Coal Seam Gas
Valve Trim Choices Are Easy with Zirconia
Kimray's Zirconia Trim combats valve abrasion more effectively than any choice on the market. That keeps your valves up and running, and your well site reaching its peak performance. Zirconia Trim is available now in Kimray High Pressure Control Valves. For more information on Zirconia Trim, you can download our brochure.