Kimray Valve Automation
Electric control and valve automation are technologies that provide clear benefits for oil and gas operators. The primary advantages include zero emission valve control and also remote monitoring of operations. This means a producer can access information about their production from the office, saving both travel time and money.
However, while these benefits are clear, until now electric control has had a relatively high bar for entry.
The Challenge of Electric Control
Currently, if you want to electrically control and remotely monitor a valve's position on your site, you must acquire a Remote Terminal Unit (RTU) or Programmable Logic Controller (PLC). These complex devices allow you to connect electric actuators to their microprocessor-controlled system via SCADA or another communications control network.
Due to the complexity of these units, you will need to contact a specialized programmer to come to your site and calibrate it to your conditions and needs.
Obviously, these units require a significant investment for installation and startup. As such, they are typically not cost-effective for small- to medium-sized sites where only one valve needs monitoring.
In this environment, the Kimray Electric Pilot is an ideal solution.
Electric Control Made Simple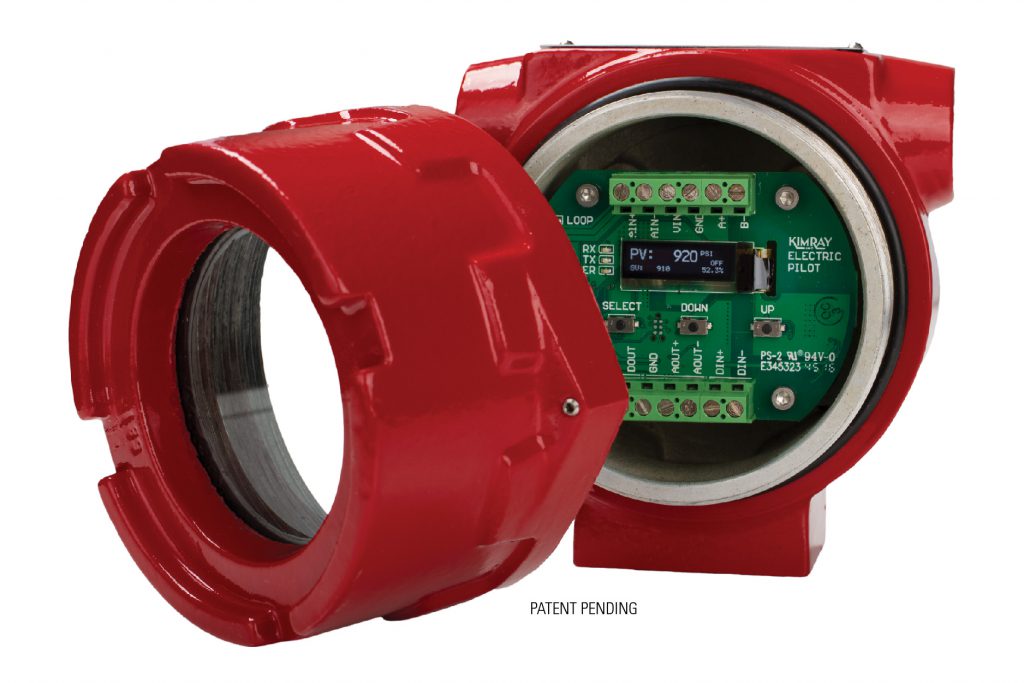 The Kimray Electric Pilot (U.S. Patent Pending) is a state-of-the-art, stand-alone valve controller that can control pressure, flow, temperature, or level.
The pilot features a simple, interactive screen for on-board adjustments. The screen also displays a readout of PID (Proportional Integral Derivative) with auto-tune, providing precise control and ease of start-up for the operator. Best of all, the Electric Pilot allows you to control process conditions without the use of a Remote Terminal Unit, Programmable Logic Controller, or any other computing hardware.
How it Works
The internal pilot receives an analog 4-20mA signal from a sensor, which represents a process condition. This signal is conditioned and then sent to an electrically controlled valve via 4-20mA output signal.
A PID control loop is utilized along with auto-tune and manual tuning capabilities. The pilot shares a common input power source with the electric actuator for the valve.
For more information on the Electric Pilot, or to schedule a demo, contact your local authorized Kimray distributor.