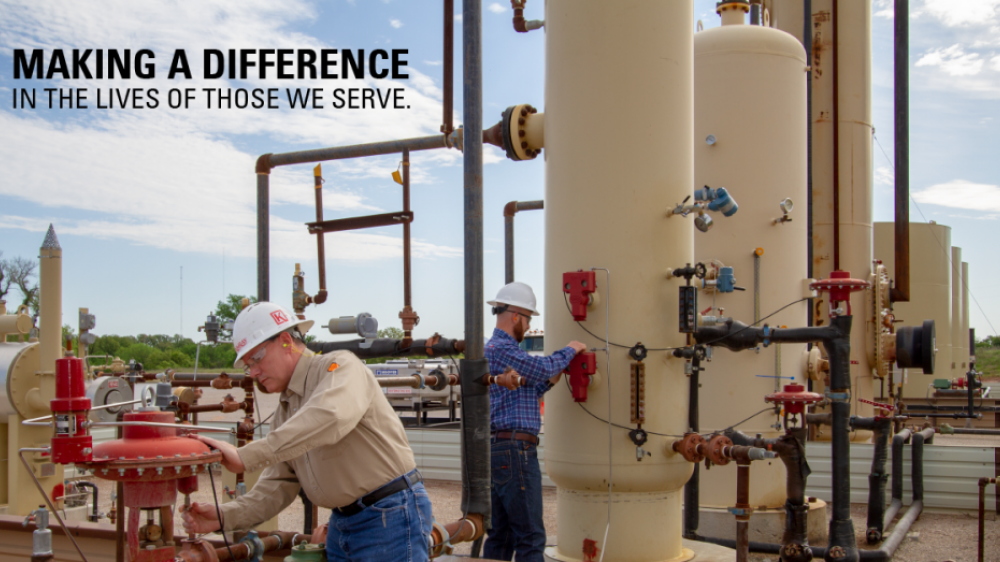 UPDATE: 2020-03-26, 4:50 PM CST
Energy is Essential
As outlined by the federal government, the energy industry is essential to our country's functioning. While some businesses have been forced to shut down during this challenging season, the energy industry will keep moving for the good of our nation and its citizens.
As an energy product manufacturer, Kimray will continue operating in order to fulfill our responsibility to the industry we support and the communities we serve.
While things have changed rapidly over the last few days, Kimray manufacturing and all of our regional stores will remain open during this time.
How We are Keeping People Safe
While remaining open, we will also continue doing everything we can to maintain a workplace that is safe today and in the days to come.
We are closely following the available data on COVID-19 and monitoring the information and directives coming from federal and state agencies. We have instituted significant procedures to reduce the opportunities for exposure within our workplace.
These include the normal protocols of practicing social distancing, staggering shifts, increased cleaning and sanitizing both our stores and manufacturing areas.
Need Service? We're Open!
If you need service from any of our stores, please contact us at the number or email address listed below. Again, we are here to support you and will continue to take and deliver orders, repair products, and offer technical support.
If you need to visit one of our stores, we ask that you call first. In consideration of your personal safety, as well as that of our team members, we are offering curbside service at all of our locations while abiding by social distancing guidelines.
Oklahoma City, OK – 405-808-3609
Kilgore, TX – 903-808-6529
Corpus Christi, TX – 361-443-5901
Houston, TX – 936-441-2468
Scott, LA – 337-224-4124
Indiana, PA – 405-921-9254
---
Update for Oklahoma City: 2020-11-20, 10:15 AM CST
In effort to keep our team members and our customers operating in as safe an environment as possible, Kimray Oklahoma City will be moving to Curbside Pickup only for Will-Call Orders.
This is effective beginning November 20, 2020 and will remain in effect until further notice.
When you arrive at Kimray to pickup your Will-Call order, please remain in your vehicle and call 405-525-4626 and we will bring your order out to you.
---
ORIGINAL POST: 2020-03-12, 10:15 AM CST
Kimray Partners,
By now you have likely heard of COVID-19, the virus that has affected people around the world and caused disruption to many industries.
According to the most recent information from the Center for Disease Control (CDC) , for most people in the United States the immediate risk of being exposed to this virus is low. We are aware of and keeping an eye on this evolving situation.
Out of an abundance of caution, Kimray has taken the following steps:
Initiated social distancing practices

Restricted all international and domestic air travel for all team members
Restricted travel to gatherings or conferences to be approved on a case-by-case basis
Instituted a 14-day quarantine policy for any team member who travels to a high-risk area, including any state or region with a Level 2 or Level 3 Travel Health Notice by the Center for Disease Control
At this point, Kimray does not anticipate any manufacturing or shipping delays due to this development.
We are in frequent communication with our suppliers and extended supply base, identifying any area that might be influenced by COVID-19. Due to the highly domestic supply chain that Kimray continues to foster, we see very minimal potential impact and are monitoring inventory levels both internal and at our suppliers.
We carry a strategic supply of our most popular items at our Distribution Center in Oklahoma City and are positioned to cover current demand and maintain timely deliveries. Our store locations and Independent Distributors are also well prepared with their highest moving items.
If you have further questions regarding product availability, please contact your local Kimray store or authorized distributor. We will continue to update this blog with news as well.