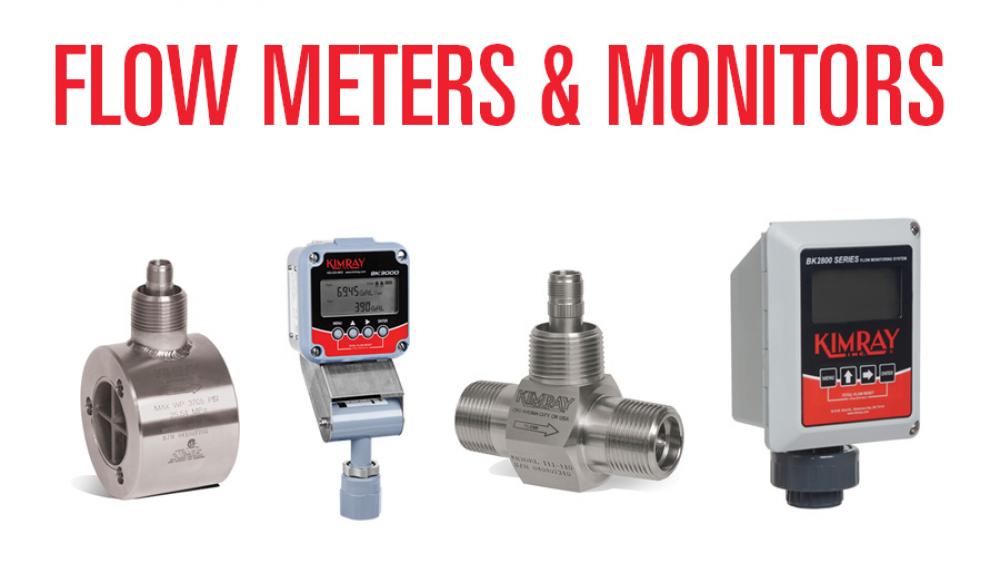 Pressure, Temperature, and Flow are three key elements of oil and gas control. "Flow" is how rapidly process fluid or gas is passing through a given system. The best tool for measuring flow is a turbine flow meter.
How a turbine flow meter works
Fluid entering the meter passes through the inlet flow straightener, which reduces its turbulent flow pattern and improves the fluid's velocity profile. Fluid then passes through the turbine, causing it to rotate at a speed proportional to fluid velocity.
Each turbine blade passes through the magnetic field at the base of the transducer, while AC voltage pulse generate in the pickup coil. These pulses produce an output frequency proportional to the volumetric flow through the meter.
Kimray currently offers two versions of the flow meters. The design of the flow meters is to provide rugged, cost-effective, and accurate flow measurement over a wide range of measurement requirements: The BK1100 Turbine Flow Meter and the QuickSert in-line Turbine Flow Meter.
---
Key Design Features
Long life: Rugged 316 stainless steel construction offers long service life in severe operating environments
End connection options: Available in NPT, BSP, Victaulic®, Flange, or Hose Barbed end connections
Many flow options: Offers accurate and repeatable flow measurement in ranges from 0.6 to 5000 GPM (20 – 171,000 BPD)
Ease of repair: Field replaceable repair kits allow for turbine replacement without loss of accuracy
Full Calibration: Both the Flow Meter and the repair kits are factory calibrated.
High accuracy: Accuracy +/- 1% of reading or better
---
Key Design Features
Turbulent flow control:

Modified flow straighteners for enhanced fluid dynamics

Ease of installation:

Unique "between-the-flange" design eliminates need for mating flanges

Rugged design:

Superior materials of construction for high performance in aggressive environments

Highly accurate:

Accurate (± 1% of reading standard, ± 0.5% optional) and reliable (repeatability ± 0.1%) flow measurement solution

Space saving:

Wafer-style mounting configuration allowing for limited space requirements

Accuracy assured:

Both the Flow Meter and the repair kits are factory calibrated.
Of course, a flow meter is useless without a way to read the statistics it collects. Kimray also offers two Flow Monitors designed to operate with flow meters so you can track flow on-site: The BK2800 and BK3000.
---
The BK2800 is an advanced microprocessor-based flow monitor that is also low cost and simple to operate.
When ordered with a Kimray turbine meter, the factory configures the BK2800 for units of rate and total. Or, the unit may be easily programmed in the field.
The monitor has a large two-line display and is available in power and mounting options to suit almost any application.
---
The BK3000 is fully customer programmable, and can measure several different units as well as display total and current flow rates.
The monitor is 4-20mA loop and battery powered. This allows the customer to never have to worry about losing power. The onboard battery lasts more than 8 years.