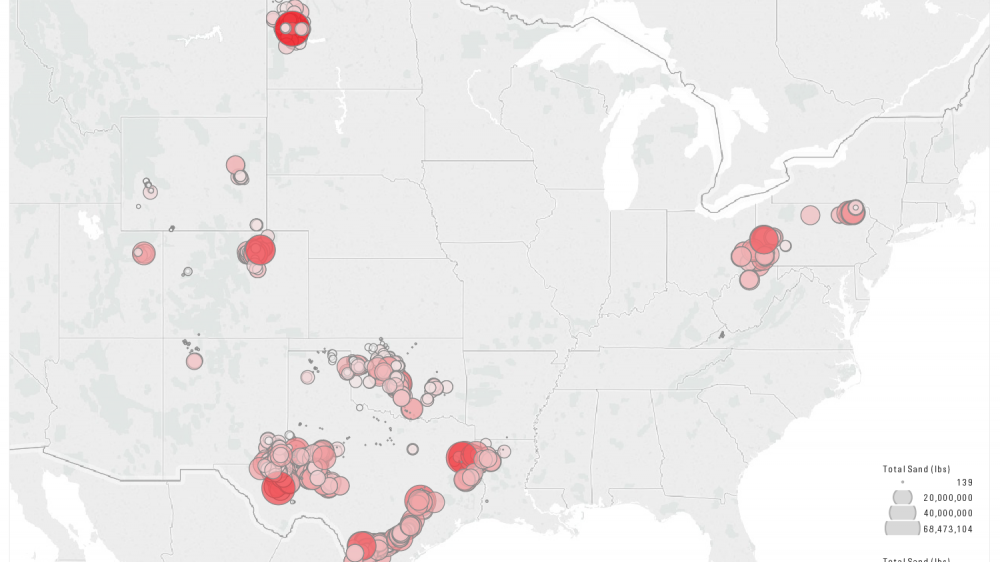 The Impact of Flowback Sand
In a previous blog post, we provided a quick guide for flowback and its role in the oil and gas industry. For example, one of the main components of flowback is the sand that mixes into the crude oil, natural gas, and water.
Though unavoidable, sandy flowback can significantly slow down the oilfield completion process.
Flowback Sand By Region
The infographic above shows the distribution and range of flowback sand. Specifically, it focuses on the competitive U.S. shale plays. The amount of sand (measured in pounds) ranges from approximately 200-68,000,000. The dot cluster concentration around the map illustrates this range.
The Permian, Eagle Ford, Scoop, Utica, and Niobrara regions have higher quantities of sand concentration. However, as of the last quarter of 2018, the Bakken region (specifically northwest North Dakota) contains the highest amount of sand.
Depending on the region of operation, oilfield workers will experience different conditions. In the Woodford Shale region, though less sandy than some of the higher-volume basins. Kimray had the privilege of talking with a flowback operator about his firsthand experience in the field. He provided great insight into the challenges that a flowback operator encounters in their day-to-day job.