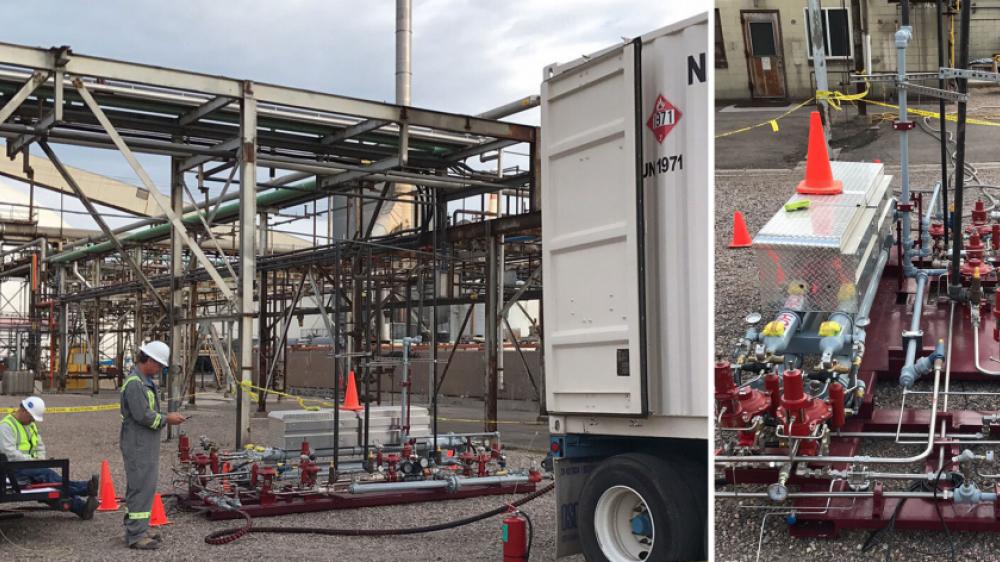 When a utility provider experiences an outage, they often contact companies like Tom's team at Tulsa Gas Technologies.
Starting in 1990, in his shop in Tulsa, Oklahoma, Tom Sewell pioneered an innovative, successful process for the installation and dispensing of Compressed Natural Gas. This installation process is now the standard for CNG stations in North America and beyond.
In recent years, TGT has begun to create and deploy mobile gas supply trailers to utility companies. They do this so that their customers experience zero downtime.
A member of Kimray's Business Development team met Tom in the spring of 2017 to learn about his business. Though he wasn't our typical upstream customer, he was looking for something we had experience with: controlling gas pressure.
The Challenge
The challenge for TGT was ensuring their high pressure bulk storage tanks could safely enter the low pressure gas lines of the utility companies. To do this Tom needed to reduce gas pressure dramatically—from 3500psi down to 5psi—within 15 feet, and avoid freezing it.
Tom had experimented with several methods. This includes pre-heating, but Tom was still looking for a better way to deal with the freezing that accompanied that large of a cut.
After meeting Tom, our Business Development Manager set him up with a member of Kimray's Product Applications team for a half-day Kimray product training session, and they began to brainstorm about what our products could do for his application.
The Solution
Our Applications Technician suggested stepping down the pressure in large cuts utilizing a 1" high pressure control valve w/ 250 PG pilot, a 1" high pressure control valve with 150 PG pilot, and a 1" high pressure control valve with 30 HPG pilot. This was a unique application for Kimray valves.
In total, Tom utilized 7 Kimray 1" high pressure control valves with pilots. As a result, he was able to control the inlet and outlet pressures of the gas process stream. The series of 4 Kimray valves stepped down the pressure from 3500psi to a 5psi outlet. This allowed Tom to safely enter a low pressure gas line while still utilizing his high pressure bulk storage tanks.
In August 2017, a utility company in Idaho experienced a pipeline outage. Tulsa Gas Tech and Plum Gas Solutions stepped in and, using a combination of LNG (liquid natural gas) and CNG trailers, with the help of Kimray pilot-operated high pressure control valves, Tom and crew were able to keep the plant alive—and a town's gas line up and running—with plenty of gas to spare.
At Kimray, we don't just deliver products; we deliver solutions. No matter how big or small your challenge, give us a shout. Our team is always ready to help you make control work.