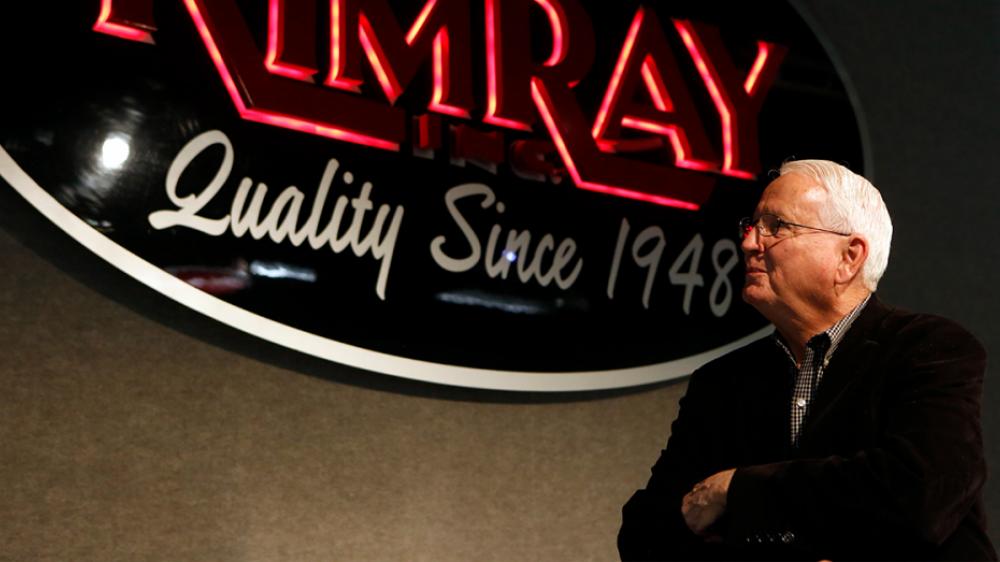 December saw the retirement of Kimray's longest tenured team member, Johnny Reeves, who started at Kimray on July 24, 1967. The only person who spent more time at Kimray is founder Garman Kimmell.
Logging more than a half-century at a company is an achievement worth marking, and Kimray held a retirement party for Johnny on his last day, December 18.
President Bob Cole said Johnny has left a legacy at Kimray that will be unmatched.
"It's amazing to me to think that the first day I came to Kimray as a little kid, you were already here, and in all the years that I've been at Kimray, you've always been here," CEO Thomas Hill said. "I appreciate your loyalty to your fellow workers and to the company. You've always been the kind of person who brought warmth and kindness and a lot of knowledge and quiet strength to whatever team you've been on."
Dustin Anderson, Vice President of Sales & Marketing, said Johnny has been the most consistent person on the team for a long time.
"Our customers and our team members have come to expect fair, accurate, consistent responses from Johnny. I think he has daily phone calls scheduled at the same time every day with certain distributors that he's served for years.
"With our team members, if we don't know the answer or we don't know the history of something, or we don't know how to find it in the system, we consistently go to Johnny for that help. Most of all though, in his faith. I've seen Johnny battle downturns. I've seen Johnny battle cancer. I've seen Johnny lose loved ones. But he has been consistently unwavering in his faith and consistently points to God as his strength and his source of joy time and time again."
Johnny first spent a few years in Assembly and a couple in Shipping before settling in at Customer Service, where he's spent the past 44 years. Back then, he and the vice president at the time were the only people doing customer service. "He said, 'Come on over here, take this pen and paper. See that telephone? When it rings, answer it.' And he went out to do inventory. So I learned fast," Johnny said. "It was kind of scary. We were in the middle of an oil boom, 1975. It took me a while to get accustomed to it.
"At that time, Machine Shop was at the far west end of the building, then Assembly, and Shipping was at the east end. The biggest change I've seen is, when I came over, everything was done with pencil and paper. We had no computers. If we wanted to know what we had on hand, we had to go out and look for it.
Johnny's supervisor in Customer Service, Jenny Kennedy, said he genuinely cared about people and was interested in what was going on in a person's life, no matter if that person was in the office with him or at a distributor in another state.
"He could tell you anything about any of our distributors. He took the time and showed an interest in everyone. If one of us in our area was sick or going through a rough time, Johnny would always reach out to us to let us know that he was thinking about us. He was our weatherman. No matter if you were at home or at work you could be guaranteed that if there was any kind of bad weather in your area he would be texting you just to make sure you were aware. Johnny is family to me."
In 52 years, Johnny has built a lot of relationships. His family is built into Kimray — his daughter, son-in-law, nephew, and brother-in-law have all worked here, and his son, Derek Reeves, is Master Production Scheduler in Territory 8.
"I enjoy talking to people," Johnny said. "Our customers, I have a lot of good friends out there. You learn about their families. Most of them, I worked with their dads before they took over the company."
"The people are what I enjoy," Johnny said. "I've gained a lot of friendships here. Been through a lot of emotions with them. A lot of happy times. Some sad times. The people are what I'll remember the most."
Johnny said he and his wife Janie have some land to take care of and plan to travel.
Thank you, Johnny, for making a difference in the lives you have served. We wish you and Janie many blessings on the next chapter of your lives.