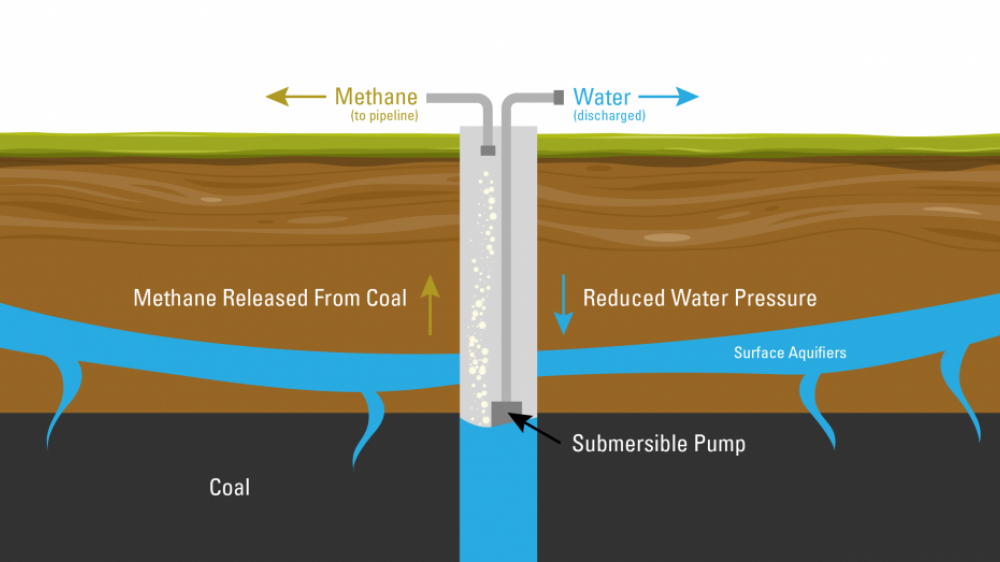 Coal Bed Methane production is a method of recovering gas stored in coal. Coal Bed Methane is quality gas that needs minimal processing.
This method, also referred to as Coal Seam Gas recovery, is very different than conventional gas production. Here's how it works.
Absorption
Methane gas is stored in coal by a process called Absorption.
During absorption, gas molecules are bound by weak electrical forces to solid organic coal molecules.
Dewatering
Due to the low gas pressure of these wells, producers use a downhole pump to take water off the well. For instance, they may use an electric submersible pump (ESP) or progressive cavity (PC) pump.
The pump sends the water up the tubing and to the producer's surface equipment. This initial production is called dewatering. Recovery at this stage is mostly water.
Eventually, dewatering reduces the pressure on the bond, allowing the methane to detach from the coal and flow to the surface.
At the Surface
Once the product is at the surface, producers send it through a two-phase separator to separate the gas from the water.
There are two operational solutions for producing coal bed methane: pneumatic and mechanical.
Pneumatic controls are the best option if you need to meter the water. You can set up a pneumatic

High Pressure Control Valve as a dump valve in a snap application. When metering

,

a large on/off dump span is

required

,

and pneumatics provide the correct operation for this application.

Mechanical controls are the best option if no supply gas is available to run the pneumatics. In this set up, you connect a Liquid Dump Valve to a float inside the separator. These are easy to install and reliable.
Kimray has pioneered coal bed methane production processes with producers across the United States, India, and Australia. If you'd like more information, contact your local Kimray store or authorized distributor.