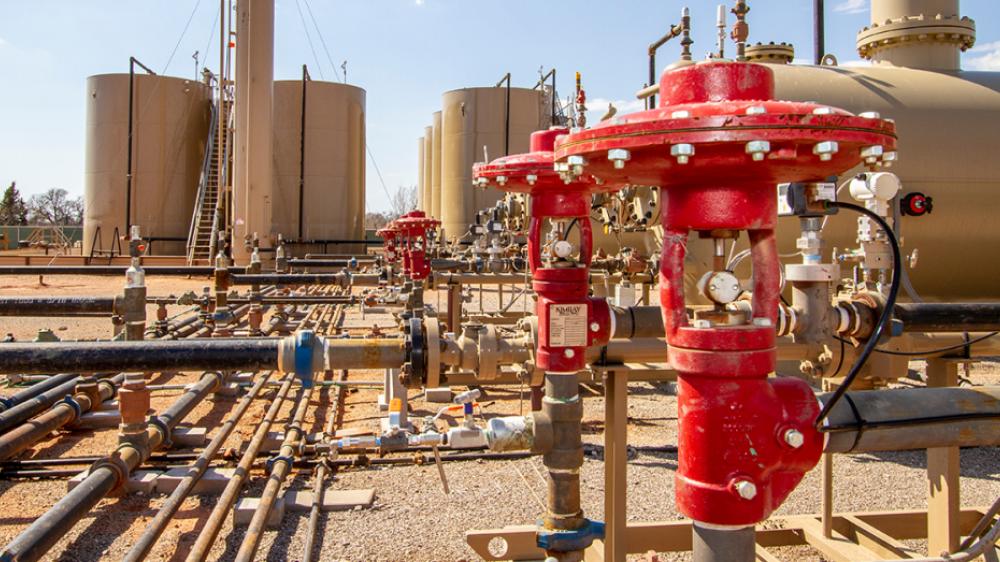 In this article, we'll look at some key control valve terminology that will help you identify the parts of your control valve and the principles that make it work.
For our example, we'll use a stem-guided high pressure control valve.
Control Valve Terminology
Actuator — The valve actuator positions the valve trim to control the monitored process. The valve actuator can be pneumatic or electric.
Ball and Seat — The ball and seat are what meet to block off the flow through the valve. These pieces are the part of the valve most susceptible to wear and tear from contact with abrasive or corrosive production.
Cage — The cage helps to keep the valve stem aligned with the seat while allowing flow to pass through it.
Cv — an abbreviation for Valve Flow Coefficient, which is a valve's capacity for liquid or gas to flow through it. Defined as "the volume of water at 60°F (in US gallons) that will flow through a valve per minute with a pressure drop of 1 psi across the valve." Put simply: the larger the Cv, the larger the valve trim. More on CV.
Fail Position — Fail position is where the pneumatic valve will rest if it does not have a pneumatic signal going to the actuator. The fail position of the valve is determined by which side of the actuator diaphragm the spring is on.
Flanged End — A flanged valve connection is secured by bolts. A gasket is put between the flanges to help seal the joint. If installed correctly, flange connections create a fluid-tight seal. More on flange valves.
Flow Path — The path that the process fluid (gas or liquid) takes to travels through the valve or equipment.
NPT — An abbreviation for National Pipe Taper that refers to valves that have threaded-end connections. Unlike straight threads on a standard bolt, this tapered thread pulls closer and creates a tighter seal.
Pilot — A pneumatic pressure pilot monitors process conditions and varies its output pressure to the valve actuator to control said conditions.
Stem — There are two stems in a high pressure control valve. The upper stem is attached to the valve actuator. A coupling block connects this stem to the stem of the valve trim. When the valve actuator moves, the valve trim will move in the same direction because they are connected by the valves stems.
Topworks — The topworks includes the actuator and its internals as well as the yoke. "Topworks" can be inclusive to anything above the body of the valve.
Yoke and Travel Indicator — the yoke and travel indicator give a visual identification of the valve's position at any given moment.
To speak with an expert about your control valve questions, contact your local Kimray store or authorized distributor.