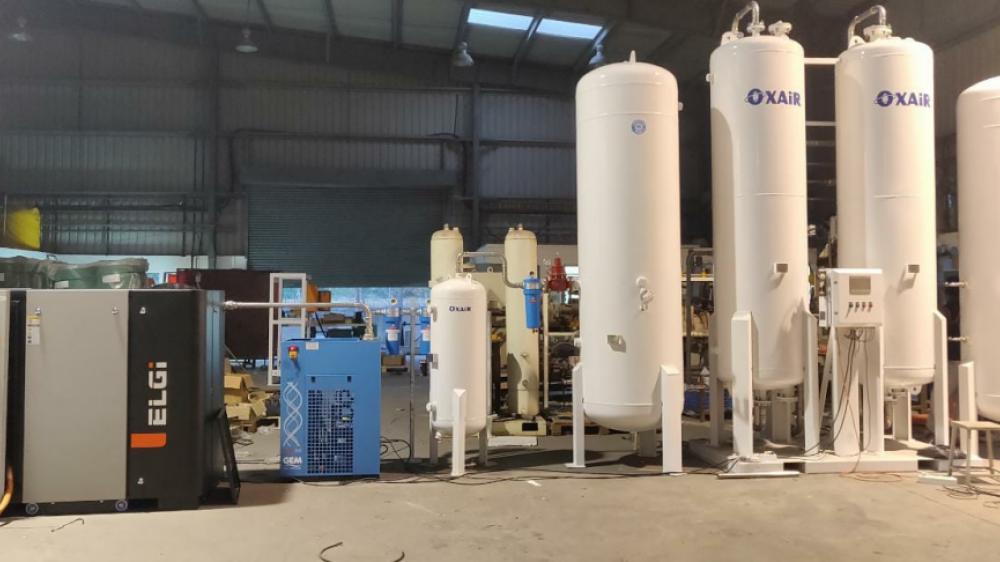 Kimray regulators are most widely used to hold gas back pressure on oil and gas separation units. They do this by sensing upstream pressure and maintaining a constant set point.
In this field study, we'll show how the regulators performed in a different application: oxygen generators for the medical industry in India.
PROBLEM
In early 2021 Kimray's distributor in India, DistributionNOW, was contacted by Oxair, a company that manufactures oxygen generators for hospitals and healthcare facilities in India.
Many hospitals in India rely on deliveries of oxygen cylinders, but having oxygen "on tap" via these generators has become extremely beneficial in the battle against COVID-19.
The oxygen generators compress, condition, and purify oxygen to be stored in an on-site buffer tank and piped directly into hospitals on demand.
During the process, there is a sudden "gulp" of air from the unit's air receiver. In every cycle, pressure in the air receiver downstream drops from 5 Bar to 4 Bar and then comes back.
Oxair rates their refrigerant dryers (RD -01 on the P&ID) to 5 Bar. If pressure in the downstream of RD-01 drops to less than 5 Bar, then the dryer becomes under-sized and the process is disrupted.
SOLUTION
To prevent this disruption, Oxair installed a Kimray Non-lube Back Pressure Regulator (D-01 on the P&ID) before the air receiver so that air pressure in the refrigerant dryer never drops below 5 Bar.
In standard back pressure regulators, there is oil inside the lower bowl, which lubricates the stem as it moves up and down.
However, in this oxygen-generating application, it was determined that the oil was not desired to maintain purity of the oxygen. So the regulators were specified as Non-lube.
Application: Oxygen Generator
Product: Non-lube Back Pressure Regulator
Upstream PSI: 5 Bar
Downstream PSI: 4 Bar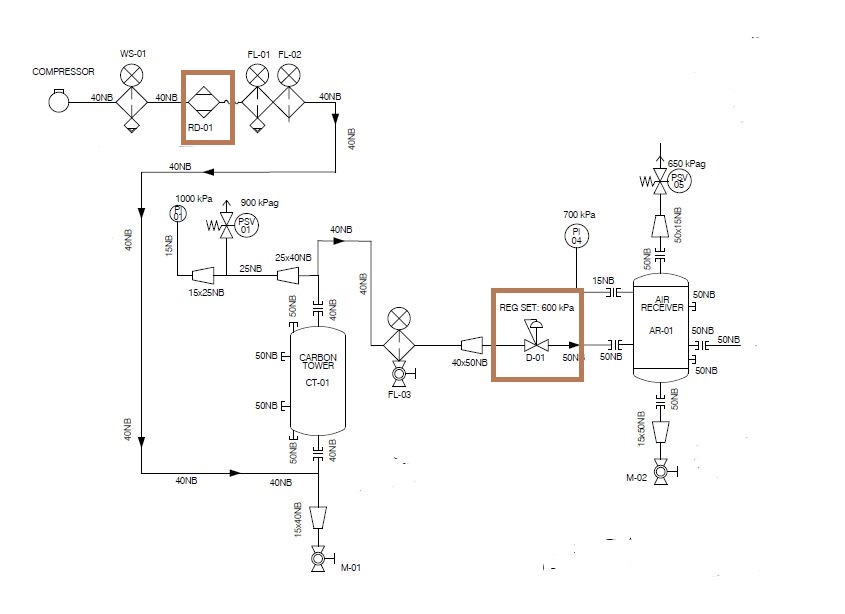 RESULTS
Date of Installation: May 2021 
 

Summary of Installation: The Non-lube Kimray regulators were installed on 25 oxygen generators, which were then transported to hospitals across India. 
 

Timeline: At the time, India was experiencing a spike in COVID-19 cases, which led to a rapid increase in demand for Oxair's generators. Through DistrobutionNOW, Kimray received a request from Oxair for 25 regulators "ASAP" to help with the escalating crisis. Several teams coordinated, from supply chain and product management to assembly and shipping, to get the regulators manufactured according to Oxair's specifications and shipped in as little time as possible. They were able to deliver them in two weeks. 
 

Looking Forward: One oxygen generator provides enough oxygen to support 100 people. That's the average capacity for most hospitals in India, though some larger hospitals have ordered multiple units. Shortly after this project, the Indian government mandated every hospital to install this type of oxygen generator unit. 


Customer Quote
"Kimray's regulators are essential to our oxygen generators. When my boss asked, 'How did you get these so fast?' I said I just asked Kimray for help."
-Ashok Seshasayee, Director of Operations, Oxair India
Watch this video to see how this request and process unfolded and the impact it made in India.