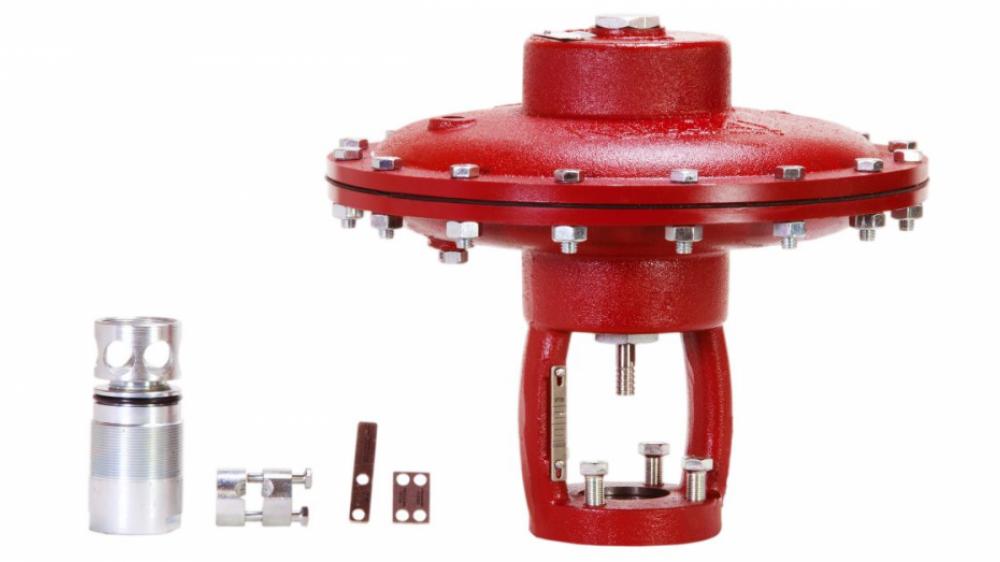 A pneumatic actuator sits on top of a control valve and opens and closes the valve.
Oil and gas producers use actuators and control valves to control processes ranging from back pressure regulation to pressure reduction to liquid level control.
How Pneumatic Actuators Works
A pneumatic actuator is one component of a control valve package. Additionally, there are two other parts that are critical to the actuator's function: the pilot and the control valve.
Pilot—A pilot senses pressure upstream or downstream of the valve and then does one of two things in response: sends a pneumatic signal that tells the actuator to open the valve, or withdraws that signal to allow the valve to close (in a pressure-open/fail-close set up).
Control Valve—A control valve sits in the production line underneath an actuator. When the actuator receives a pneumatic signal from the pilot, the pressure pushes up on the actuator diaphragm. This opens the valve and allows process fluid or gas through the valve orifice (in a pressure-open/fail-close set up).
(For more on this, see our video "Identifying the Parts of your Control Valve Package.")
Kimray High Pressure Control Valves come standard with either a pneumatic or electric actuator. These valves are available in sizes ranging from 1" to 10". They also comes in a variety of trim types and sizes along with several end connections.
---
For more information about actuators, control valves, pilots, or any other Kimray product, contact your local Kimray store or authorized distributor.